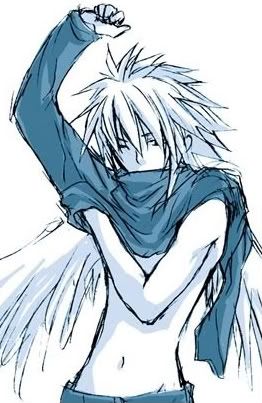 You can close your eyes to the things you do not wish to see,
:~:~:~:~:~:~:
Kyouko watched as Adena glared, the heat that brushed his pale froze face made him cringe in displeasure, he could feel the spike in temperature. Slowly his clouded mind cleared and the memorization of the Goddess' hatred for one another became more than just apparent. Kyouko wasn't in the mood for cat fights, though he might have possibly took even slight interest if they were in bikini's and the fight was in mud. It wasn't that at all though, he looked at the girls and bowed before continuing his walk as he cold the air that followed. Moving his hands he opened a small portal which lead to mortal land. Glancing he wasn't sure if the two girls notice that he was leaving. It was time for him to play games with the hearts of the mortal ladies.

Landing on the ground his appearence did not change, he smiled as he saw a young woman in a garden of roses. Echo would be just as amused with this. He walked to her,

"Hello."

he breathed another cool breeze whisked past her. He looked at the floors and made a face, "Something tells me...that white interests you...the white rose?" it was more of a statement rather than question. His red eyes narrowed in on her before changing to a silver.

"Interesting...white seems to be amongst my favorite, eternal love I do believe that is what it stands for...to bad...I don't believe in love. I just adore the pureness of the color."

he chuckled now walking into the garden and plucking a rose, and managing to not be poked by the thorns.

"The thorns are their walls...built to protect them from reality....to bad they are easily broken."

he huffed now breaking the thorns off. His silver eyes scanned her, he could hear the racing of her heart and smiled, handing her the white flower he continued,

"Though, white are only only my third favorite rose...my second is an ice rose...and my first is a crystal."

he grinned. Holding out his hand he moved it in various ways. Soon a rose was around his right index finger it was as cold of snow.

"The ice rose...it never melts...it never dies...it's almost perfect...it's only flaw...is that it breaks...and it shatters then the pieces...vanish."

he breathed as the ice rose poofed and a new rose began to grown.

"But the crystal rose...oh it is perfect...never breaks...never melts...never dies...always...perfect."

a beautiful ice cold crystal rose was now in his hands. He handed it to her,

"Here...have it."

his soft smile made any mortal's heart melt. He couldn't wait to see the reaction of the gods when the discovered how deeply he interfered with mortal life.
But you cannot close your heart to the things you do not wish to feel...