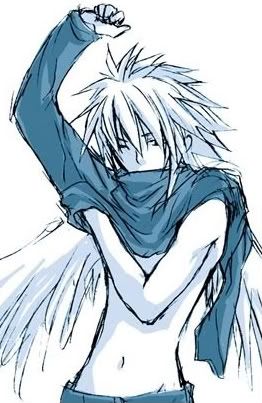 You can close your eyes to the things you do not wish to see,
:~:~:~:~:~:~:
Kyouko woke up from his light slumber. His naturally messy snow white hair shined brilliantly as the warm sun beat against his pale skin. He appreciated the warmth for a moment, but quickly closed his blinds. It wasn't that he hated the warmth, but it was too much for him at times. He staggered to his closet in a lazy fashion.

Kyouko wasn't like most gods, he had to sleep, eat, and other functions that weren't really "normal" to the gods. He knew this, he could bleed and be wounded, and was cursed to heal using the "natural" process. This was his punishment for angering the elders, ever so many years ago.

Once to his closet of his icy room he slipped on a much more "normal" outfit that wasn't acceptable by the gods. He pulled his dark blue denim skinny jeans that were torn on, and pulled a blue baggy sweatshirt over him. He found a pair of black converse and checked to make sure his wings weren't even slightly visible. His "rebel" like ways tended to make most females stare at him, he really didn't acknowledge that.

Turning he scanned his room, it was basically a replica of an arctic wonderland. He walked out of the room and made an "up" motion with his finger and a hard as steel ice wall covered the door way. He could see the shadows all around and smiled, Echo was awake. She always had a way of entertaining him, her "games" were fun to him. He huffed, with no other intentions for the day, he aimlessly wondered the clouds until he made it to the building. Bursting through the door as a spine tingling chill followed he looked around,

"Morning, Miss Echo."

he said swiftly before walking to his chair. His chair was all white with very light blue cushioning, with clear ice crystals for the legs and arms of the long chair. He threw himself on it and laid lazily, his now red eyes looking around the room, clearly he was bored. Focusing on the small mortals that would plead to him to keep the frost away so it would not destroy their crops or beg to keep a snow storm away so that they would not be stuck somewhere they'd rather not be. Depending on his mood he'd grant them their wish. Though he wasn't know for subtly. He dueled it out with many of the gods, finding himself victorious he often reminded himself of gods before him. Powerful, attractive, graceful. What more could he want, though his dashing red eyes would occasionally flicker back at Echo, as he'd smiled and grin slightly at her before continuing the process of tormenting the innocent.
But you cannot close your heart to the things you do not wish to feel...