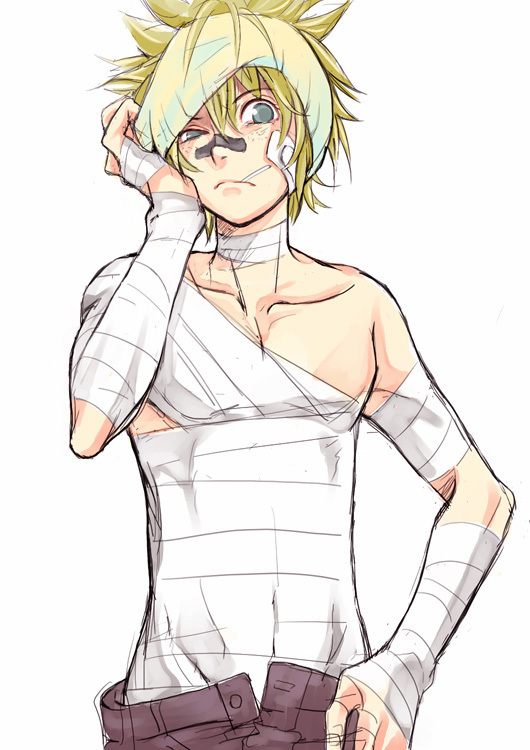 AK turned around, "I'M NOT GOING TO ******** CALM DOWN! I'M DONE BEING CALM! I DON'T HAVE LONG TO SEEK OUT WHO DID THIS BULL s**t! I HAVE SO MANY PEOPLE TO PROVE MYSELF TO! I HAVE A ******** COUNTRY TO PROTECT ALL THOSE FAMILIES AS WELL! I'M DONE CALMING DOWN!" he shouted. The blood fell faster and as he swung his sword around. "I have three days...how can I do anything in three god forsaken days....." his tears fell faster. "I'm so...so sorry Night...for everything that is happening..." he felt like s**t. His life was being mixed. He swung the sword again causing to to cut his leg, he watched the artsy blood trickle and fall. He knew Night would have preferred him dead over that strange man, just from how she was reacting.

He wished more and more it had been him. He let himself bleed as he cried. He was pissed, he was heart broken, he was lost. The barbed wire was twisting around his throat. He walked into the forest. He was going to kill. His wolf ears that were jet black and one dripping with his blood twitched. He walked forward to the town he growled.

Pulling out his sword he shouted loudly, "COME ON BASTARDS FIGHT ME! WHO THINKS THEY CAN HANDLE ME! HU! THE BEAST IS BACK! I'M NOT SPARING! THIS SHALL BE A FIGHT TO THE DEATH! REMEMBER ME! MY NAME WILL GO IN HISTORY! ONLY IF YOU LIVE TO HEAR IT! ONLY IF YOU CAN SEE MY FACE YOU WILL KNOW WHO I AM!" AK shouted, his face was no longer human, but a wolf's face.

Three men ran towards him. He led them into the woods and slaughtered them. Merciless. He was pissed, he cried as he uncontrollably sliced them like bread."Night....Akio....Night....Akio...." he repeated their names as he slashed the three bodies. "I'm sorry...I'm sorry!" covered in blood his tears fell. "It feels so real from the outside looking in...." he said aloud.

He remembered part of the speech Noctus read to him as he trained, he repeated it as he continued to stab the men, "How all occasions do inform against me, And spur my dull revenge! What is a man, If his chief good and market of his time Be but to sleep and feed? a beast, no more. Sure, he that made us with such large discourse, Looking before and after, gave us not That capability and god-like reason To fust in us unused. Now, whether it be Bestial oblivion, or some craven scruple Of thinking too precisely on the event, A thought which, quarter'd, hath but one part wisdom And ever three parts coward, I do not know Why yet I live to say 'This thing's to do;' Sith I have cause and will and strength and means To do't. Examples gross as earth exhort me: Witness this army of such mass and charge Led by a delicate and tender prince, Whose spirit with divine ambition puff'd Makes mouths at the invisible event, Exposing what is mortal and unsure To all that fortune, death and danger dare, Even for an egg-shell. Rightly to be great Is not to stir without great argument, But greatly to find quarrel in a straw When honour's at the stake. How stand I then, That have a father kill'd, a mother stain'd, Excitements of my reason and my blood, And let all sleep? while, to my shame, I see The imminent death of twenty thousand men, That, for a fantasy and trick of fame, Go to their graves like beds, fight for a plot Whereon the numbers cannot try the cause, Which is not tomb enough and continent To hide the slain? O, from this time forth, My thoughts be bloody, or be nothing worth! -Hamlet!" he shouted. Finally he dropped to his knees and cried.

What was he doing, this was why he left Italy it brought the evil out in him. He screamed and howled his face was only wolf to lure them in, the cried more and more his blond hair. His hand, his body, covered in blood to the very last drop. He hugged his knees and finally whispered, "Night..."

He mumbled more have Hamlet to himself as he sobbed uncontrollably, "To be, or not to be : that is the question:
Whether 'tis nobler in the mind to suffer The slings and arrows of outrageous fortune, Or to take arms against a sea of troubles, And by opposing end them? To die: to sleep; No more; and by a sleep to say we end The heart-ache and the thousand natural shocks That flesh is heir to, 'tis a consummation Devoutly to be wish'd. To die, to sleep; To sleep: perchance to dream: ay, there's the rub; For in that sleep of death what dreams may come When we have shuffled off this mortal coil, Must give us pause: there's the respect That makes calamity of so long life; For who would bear the whips and scorns of time, The oppressor's wrong, the proud man's contumely, The pangs of despised love, the law's delay, The insolence of office and the spurns That patient merit of the unworthy takes, When he himself might his quietus make With a bare bodkin? who would fardels bear, To grunt and sweat under a weary life, But that the dread of something after death, The undiscover'd country from whose bourn No traveller returns, puzzles the will And makes us rather bear those ills we have Than fly to others that we know not of? Thus conscience does make cowards of us all; And thus the native hue of resolution Is sicklied o'er with the pale cast of thought, And enterprises of great pith and moment With this regard their currents turn awry, And lose the name of action.--Soft you now! The fair Ophelia! Nymph, in thy orisons Be all my sins remember'd..." he was at a whisper now his voice rattled from tears. He cried and cried the blood seeping into his close he whispered again, "I'm sorry, Night..." as he took his sword he cut his other leg and watched the blood flow naturally out the self inflicted wound.