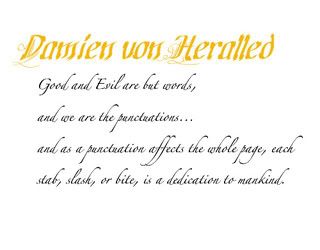 Murder is a game where the hunter is also hunted.
--------------------------------------

FaMiLy
Missus Panda: niece's other uncle
S C I E N T I F I C A: niece's sister
IShallyX3: niece's lil sis
Saraku: sister. (niece's mom)
DisasterxCookie: other niece/nephew
IDIDbarbie: nephew. (niece's bro)
Sexitivity: mum
Xx_h3ath3r_xX: other niece/nephew
Tsuki Gamuto: nephew (niece's bro)
grease-two: niece (niece's twin)
xXsMeXi_AsIaNxX: niece (niece's older sis)
Darkheart990 : bro in law (niece's dad)
KVisasleaze: niece (niece's sis)
chubby_janny: niece's aunt
Pugglie: other nephew/niece
Victor van Baron: me
iiCONTAGIOUS: daughter
News Paper Mule: mum in law in law. (niece's other grandmama)
Princesa Consuelo; niece (niece's older sis)

oORAWRBabyOo: fave niece.
--------------------------------------

There is no right nor wrong,
the world is what you make it....