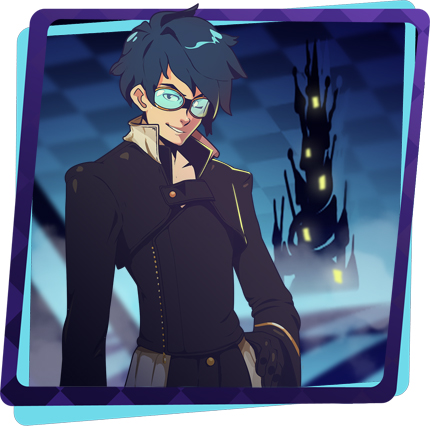 Tartarus has appeared, since the Dark Hour hast begun. An eeire smog fills the air, from whence the Shadows are born. A lone stoic soul named Minato has chosen you to assist him in exploring the tower to locate the source of it's evil and purge it from the world!
The first Shadow I encounter was bunny with a carrot attached to it. Swiftly I used my sword to summon my persona. Defeat it with ease.
Next I faced off against an armor lizard Shadow. Minato took it on and effortlessly used his persona to kill the Shadow. And then he died in front of my eyes. I used a revive skill and healed him up.
We pressed forth and found a chimera beast! Minato charged right in and died right before my eyes again. I healed him up again asked him to please stop doing that. He merely nodded his head.
I stood around for a bit to allow my MP to catch up. More bunnies appear left and right and even a few armored lizard Shadows appeared.
We pressed forth in hopes that we could defeat whatever evil is at the top of the looming evil tower or evilness.
The air grew very cold and it seemed that the two of us traveled for a very long time. We had to avoid Death a few times and try to bypass any Chimeras we found since we were not high enough leveled. These bunnies with carrot butts are not helping us gain much experience points...
Why didn't Minato bother to have any healing skills? He merely shrugged when I asked him. He didn't seem to have much to say. I tried to get him to talk. This silence was just too eerie for me.
He either played with his music or his cool goggles. Silly kid, he even ran with his hands inside of his pockets. Here I am swinging around a sword and he keeps freaking me out by pulling a gun to his head. Dear lord this is too much for me to handle. He just smiles and gestures that we proceed.
Why are we even doing this? I never knew of a Dark Hour and I did just fine not knowing Shadows existed! Christ's sake put that gun away!
He then sadly looked me and pointed in the distance. My vision blurred and he faintly muttered the words, "I will never forget you. You stayed with me til the very end. I have to face 'him' alone." I cried as I fell backwards.
I fell for a long time.
........
..........
..........
.........
What? What is this?
I woke up to find myself in the dorm and everyone looking concerned. I wondered what had happened. Mitsuro told me that I was in a coma. I asked the whereabouts of Minato. Mitsuro wept. As she ushered everyone to leave; before she left she faintly said, "He died."
She closed the door behind herself and I was alone. I heard a slight giggle that sounded like a boy but I'm sure I was just hearing things. I drifted off to sleep. I sleeply told myself, "I'll wait for you, Minato. I won't forget you either."