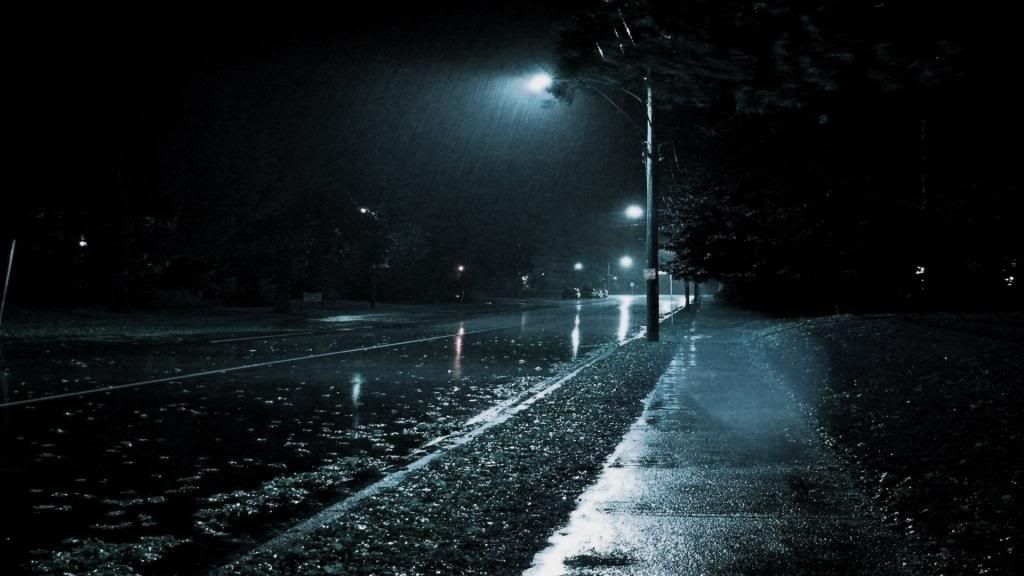 Being named as psycotic, depressed and with an anxiety disorder, i've come to realise i am thinking different from what i used to.

A simple 10 minuet walk from my sisters to my home, felt like almost an hour, of worry and fear.

I remember stepping outside of her door, and when i got off the well lit street, to go down the shortcut between the houses, things got darker, the rain started to drip, slowly getting faster and harder.

The lights were dimmer, all i could see in the distance was this light ont he corner of a cross road, a puddle beneath it with the raindrops hitting it, smaller drops splashing away from it as it landed.

each step i took, i heard an echo, but not just like it was my steps, i felt like someone was following me, the shadows seemed to grow the more i walked across the road, i could swear that some of them were moving.

no other people in sight, no cars, no movement, no sounds, just the raindrops and the echo of my footsteps, i felt like i was in a horror movie, like something WOULD happen soon, slowly feeling the panic coming on closer, hearing my heartbeat so loud through the tension in my head.

the rain, the lack of view, the shadows, that one light staring out into the darkness, that image has been in my nightmares, that very corner, the dim lighting, how i crossed on the angle to save walking time, turns out crossing that way i just could see three different paths to choose.

yes, it was as simple as walking home, but at the time, the paths felt like choices, i could go home and everything could be normal, i could extend my walk to try and overcome my fears and thoughts, or i could keep walking and vanish away into the darkness.

i always feel everytime i go out, what would happen if something did happen to me, i have no id on me, nothing personal, how would anyone ever find out i was gone. would anyone notice? would anyone care?

i always choose that path of going home, i curl up trying to get warmth but still feeling a chill to the bone, what i could have done, how easy it could have been. i know this life is worth living, even if i can't see it yet.

one day things will change, it's all most of us need to know, those things, as simple as they are, are always around us, to some of us it's a nightmare, to others it's just a walk home...

then i begin to think, people see things differently, but does this mean that what felt like a big step for me to do, was actually a small one not worth noticing?

after all, it was only a walk.