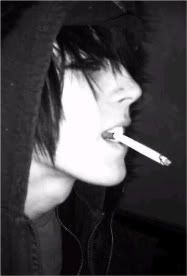 Z A N E ~ L U C A S ~ W I L L I A M S
~ ~ ~
How did you run into a door that's wide open? Get a hold of yourself. I tripped and fell so deep I can't come down.
~ ~ ~
Zane looked down at the word...adoption. He hated the sound of it. He didn't knoow much about his family. Where they good? Bad? Did they make the same mistake as he did? Or did they just not have the money? He took at the empty street, "To be honest, Lannie. Adoption doesn't help the kid...actually...it hurts. Never knowing...wondering...your entire life...why...why you weren't good enough. Even the simple things, like...who do you look like, your mother, your father, aunt, maybe your uncle? Do you have your mothers eyes and your fathers smile? Or wonder what you'd be like if you were raised by your real parents...instead of strangers that feel blessed to call you their son...only to make them regret it because you're a little b*****d child!," he wiped fresh tears, "Yeah, I was seven when I was put up for adoption, but to be honest all I really remember is the screaming and shouting. Nothing else really. I was seven, and I still wonder these things. Imagine it...never knowing. And if it ended up anything like me...home to home, non-stop. Lannie...if...if I did stick with you through it...and we didn't "pop" it...or give it up..." he stopped and took a deep breath. His eyes seemingly dead he looked around,

"I can't have your brother hating me..."

he managed to say at last. Looking at the sky he wanted to illuminate this warm dark night,

"If I could start from the beginning..."

he breathed.

Laying on his back he looked up at the sky, taking Lannie's hand in his.

"Lannie, you're one of my closest friends, and my best friends sister...I really love Madison...I think...at this point...I don't know anything."

he forced a laugh. His iPod came on and the song played in the background, which fit the atmosphere perfectly. Dear Carolina by This Love sang to him. He hummed the song as he sighed, "I know...I know Madison...hasn't been faithful with me...like I haven't with her...she and Jordan...hooked up...several times, while I was away...I know this." he contently listened to the lyrics.

His voice trailed off into the song, he was getting lost in the lyrics, it was calming.

"I can tell...the way the two will look at each other...I can just tell."

he sighed. That thought killed him, the player was played and then torn down down by the closest to him. "I know you never meant to say that everything will be okay.
When i lay in your arms at night, then you lie to my lips every time that we kiss. You should have just said no...you should have just said go...you should have said nothing at all..." he repeated the lyrics. He glanced at her,

"This sounds like the anthem of our group..."

he announced holding back his temporary rage and fit of hysteric screams and cries. Fighting the salted tears for streaming down his watering eyes.