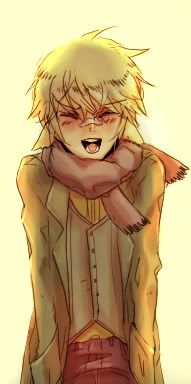 ~N A I~
~~~~~ ~~~~~ ~~~~~
Nai had been lost in the cartoon, watching a cat and a mouse fight, his tail was wagging faster now. Her glared at Lannie's brother, Hitoriki, and let out a small growl and lowered his ears. Nai, being the youngest, was always a target, and his wolf appearances didn't help much either, and it was Hitoriki who always seemed to be one of the many to tease him.

When Nai heard Tristan's voice he barked, sometimes he just couldn't stop himself. Looking up he laughed, "Yeah...my stomach and I have noticed." he laughed. T.K was practically Nai's guardian and owner. Fed him when he needed fed and was basically there for him. Though, Nai had always put a bad influence on him. They met in an unusual way, well not really. Nai was in kindergartner and already stirring up trouble. He had walked over to the dorkiest kid he could find, who was also the smartest. Threatening him to do his homework T.K listened, but as time went on. The threats died down, and a friendship bloomed. Nai, then started to show T.K the ropes of fighting around the third grade. Nai, he had to know how to to defend himself...after all he wasn't going to tolerate the torment he endured cause of an unfortunate genetic malfunction that gave him the genes of a human and wolf.

Nai's eyes were hazed but he was alert enough to speak, "I think we should go to the club...smoking is permitted right, and the provide drinks I assume?...Hell, that sounds like my kinda place. Now all I need a large fighting cage and a few brave competitors. Tristan and I will kick there p*ssy @sses!" he shouted becoming more excited by the moment. He pulled his goggles over his eyes and huffed, T.K was always busy...working or being smart. So was Lannie. Everyone basically had a job except him. "Slacker." he thought with an amused short laugh. "There's never been a time that I can remember when you're inventions failed for long...sure maybe a few hundred times later, but they work at some point." he thought his words went unheard, and shrugged it off. This was something everyone knew. Nai just didn't care. Never did...and there was a very slim chance that he ever would. Sitting up from the floor he looked at Lannie, Eli, and T.K and smiled, this was his family. How much luckier could anyone get. "Sooo whatcha written?" he asked abruptly with a curious look that was visible, even through his goggles.