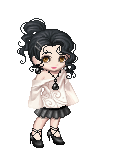 Total Value: 1,161,130 Gold
[Item Information]
Item List:
Black Bauble Drop Earrings
Light Grey And Grey Reversible Hair Pins
Black Bauble Drop Pendant
Deinocti's Oath
Audrey's Black Ankle Strap Heels
Buttoned Down Fauna Skirt
Zodiacal 2nd Gen.
I was playing around on tektek seeing if there were enough items similar to the actual look of 'ME' and came up with this. Its surprisingly accurate though my eyes are dark brown to go with my black hair and my heels make me at least four inches taller.
whee