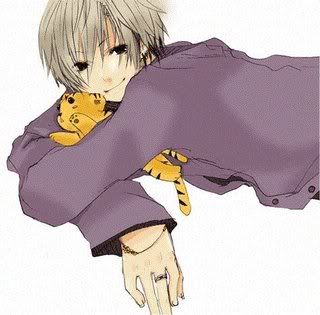 Gaia Username:
Cassandra_and_sasha
Character Name:
Shoku Frederic Belova.
Age:
17
Gender:
male
Sexuality:
straight
Zodiac Animal:
tiger (his Zodiac animal would be the one in his picture)
Nickname(s):
Sho, Freddie, Frederic
Personality:
Shoku is kind and caring, but can be very lazy at times.He likes to meet new people and act silly.he can get very shy around people of the opposite gender that aren't related to the family.when he isn't lazy he tries his best to protect people that he holds close to him and attempts to keep things calm.when he transforms he try's his best to not freak people out by the fact that he is the tiger.
Biography:
Shoku is one of the four brothers in the family of the Belova's.For five years he was thought to not have the curse because he hadn't transformed.That was until he was picked up by a babysitter and hugged.He was then seen to have the curse as well, like all his other siblings.he still goes to school but trys his best to avoid getting in any sort of relationship with anyone.
Roleplay Sample:Shoku looked at the ceiling of the belova house and rubbed his eyes.He had went to sleep early again and woke up late.He stood up, dusting off his pajama's and searching through his dresser to find a decent shirt.Shoku wasn't the one to be hungry in the morning so he just sat at the kitchen table and looked over at his two sisters and softly waved at them."morning."He said in a slight yawn.he wished he could just sleep through the whole day but he knew he had to go to school so he had to stay awake for that.he looked at katrina and smiled."let me guess, you probably had to cook breakfest this morning."He said in a light tone of voice.