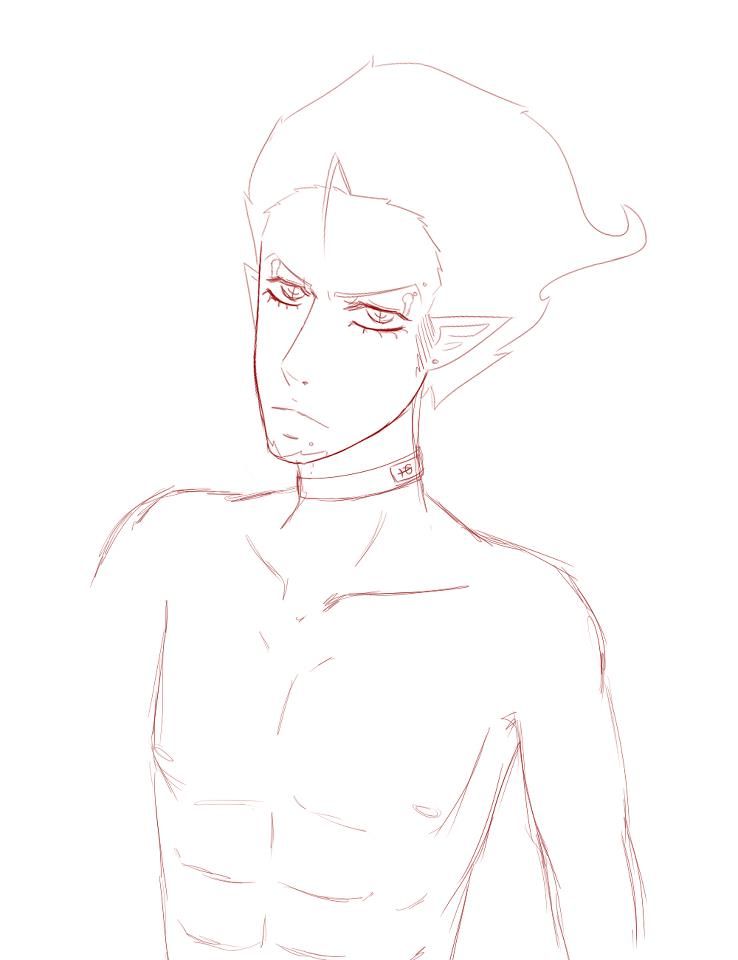 This artwork is mine, Please do not steal it.
More artwork of Ai:
HERE
Nickname:
愛 (Ai. Pronounced Ah-E. Means Love in Japanese. This is what most know him by.) "Ambrosios Elagabalus"
Birth Name:
Ambrożij Baník (Ahm-bro-zeh-e-je Baa-neek)
Age:
Appears to be in his late 20's, but he is really around 300-400 years old. He doesn't really pay attention to it anymore, so he has lost count.
Location:
Large Condo in Los Angeles, California
Birthday:
He forgot, since he doesn't care much for birthdays. But, it is sometime in late spring. (May)
Birth Place:
Somewhere in Eastern Europe
Master/Mistress:
Master
Orientation:
Bisexual (Seme. Prefers men)
Race:
Vampire-born Demon. Appears to be Slavic
Languages
: Last Slovincian speaker ( Was a language spoken naively in Poland, Which causes him to have a Polish Accent), Polish, English, Japanese, is teaching himself Korean

Likes:
Has a fascination with Asian cultures, Sex, Clothing, Fur, The color purple, piercings, Tattoos, Staying fit, Violence, BDSM, Cold Weather, Cigarettes, Hookah, Changing his hair color (His hair is naturally a Golden Blonde, But he likes to make it Orange, Red, or Brown frequently.)
Dislikes:
Homophobia, Prolonged sun-exposure, Skeptics, Religion, Sexual Taboos,
Odd/Bad Habits
: Sticking his tongue out/Pulling his bottom eyelid down with his index finger, Crossing his legs, Smoking cigarettes, Sleeping during the day.
Preferred Slave:
Vampire, Demon, The opposite of his personality.
Music Taste:
Versailles, Matenrou Opera, BORN, Girugamesh, BigBang, Pantera, Alice in Chains
Appearance
: Around 6'1. Slim and muscular, Has naturally golden blonde, wavy hair to his collar bones. His hair is rarely it's natural color, and so it is usually Orange, Red or Brown. He tends to wear very elaborate clothing with a lot of fur, lace and spikes. He enjoys jewelry and usually wear many rings on his hands. If he his not wearing elaborate clothing he usually wears silk black collared shirts, black pants and combat boots. (Pants tucked into boots). He has his lip, eyebrow, tongue, nipples and ears pierced. He has very sharp teeth, and his ears are pointed. He also has two mysterious "Birth Marks" above his Eyes. He always wears a black leather choker around his neck with a metal name tag on the back that reads out 愛 "Ai" .
Abilities:
Vampirism, Can speak in tongues, Can change his teeth/ears to look human when needed, Magic/Alchemy, Pressure points, Some Martial Arts, Learns languages easily, Seduction.
Personality:
Eccentric, Decadent, Flamboyant, Sarcastic, Fearless, Rebellious, Possessive, Obsessive, Aggressive, Confident, Acts Narcissistic but really has some insecurities, Gets attached easily, Hides his sad emotions well, but does get depressed at times.
Why "Ambrosios Elagabalus"?
History:
Born of a Demon-worshiping Vampire, that religiously practiced witchcraft and studied greek/roman history vigorously. By committing taboo acts she impregnated herself with the reincarnation of the Roman Emperor Marcus Aurelius Antoninus (Elagabalus/Helioelagabalus), Ultimately giving birth to a Vampire/Demon Hybrid. He gained many friends and was very popular as a child, although he was always strange and seemed to scare most at first. In his teenage years he became a cultist and successfully turned hundreds of thousands of people against traditional religion and sexual taboos. He courted many men and reportedly prostituted himself for fun. Many people related him to the Roman Emperor Elagabalus, and began to believe he was immortal. Many also assumed that he was a demon of some sort, most possibly a vampire due to the fact he was never seen in daylight. So, they began to call him "Ambrosios Elagablus" (Ambrosios is the greek name for Immortal) Despite many attempts to Assassinate him, he never fell to any of them. Reportedly, He led army's of his faithful followers to destroy whole villages and cities. After investigation of these ravished towns, left over victims had seemed to bloodless, bitten and aged. Nearly all items were taken from the homes, with the acception of food. After traveling most of Europe and destroying hundreds of villages he dissappeared for many years, and most forgot about him. Although, Various Demons, Demon-Hunters, Priests, and Vampires still remember his existence, although most question whether he is still alive or not.
He now goes by Ai, and lives in a large Condo in LA. He acquires mass amounts of money for unknown reasons and seems to be a pretty decent conman. He keeps most, if not all, financial-related things a secret.